Congresswoman Marjorie Taylor Greene hosted a press conference to shine a spotlight on the abuse of children with so-called "gender affirming care" and highlight her landmark piece of legislation, the Protect Children's Innocence Act. H.R. 5636 will criminalize genital mutilation and chemical castration of minor children.
Congresswoman Greene was honored to have Chloe Cole as a special guest in support of her bill. Chloe is a courageous young woman who was subjected to "gender affirming care" beginning at age 13 with testosterone therapy and puberty blockers. At age 15, she received a double mastectomy. Chloe detrans at age 16 and is now an outspoken defender of fellow youth who are being abused.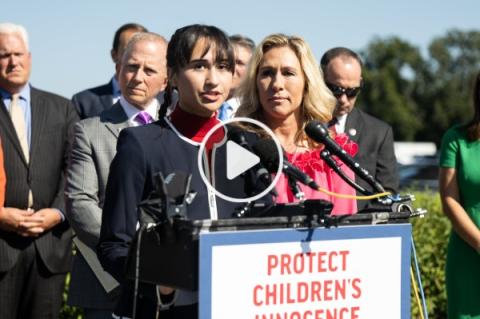 To watch Chloe's remarks, click here.
To watch the full press conference, click here.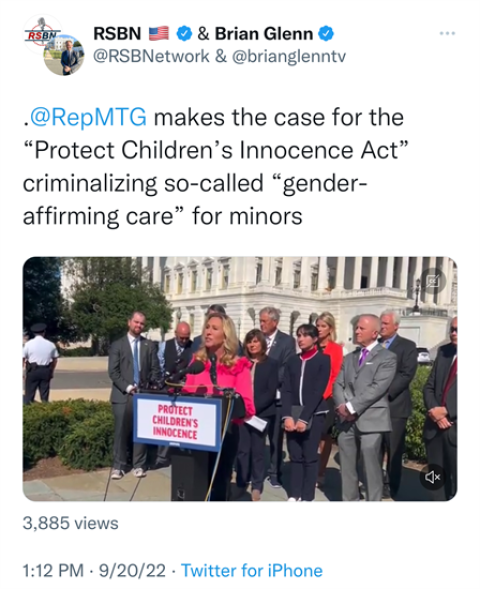 America's children are being systematically indoctrinated with perverse gender ideology by teachers, mental health counselors, and on social media platforms. President Biden's Assistant Secretary of Health, "Rachel" Levine, recently called for the government to "empower kids to go on puberty blockers and obtain sex-reassignment surgery."
This summer, Boston Children's Hospital released videos promoting gender dysphoria and offering "gender-affirming care" to minors, including sterilization, castration, and mutilation.
"Gender-affirming care" is the performance of any surgery for the purpose of changing the body of an individual to correspond to a sex that differs from their biological sex.
What this bill does:
Charges any person who knowingly performed gender-affirming care on a minor with a Class C Felony (10 to 25 years in prison or maximum $250,000 fine).
Prohibits all taxpayer-funded gender-affirming care.
Prohibits institutions of higher education from providing instruction on gender-affirming care.
Deems aliens who have performed gender-affirming care on a minor as ineligible to receive visas or be admitted to the United States.
Current Cosponsors (44): Miller (IL), Duncan (SC), Good (VA), Norman (SC), Gaetz (FL), Gonzales (TX), Higgins (LA), Owens (UT), Tenney (NY), Clyde (GA), Harshbarger (TN), Gooden (TX), Gosar (AZ), Boebert (CO), Jackson (TX), Grothman (WI), Nehls (TX), Van Drew (NJ), Steube (FL), Babin (TX), Weber (TX), Rosendale (MT), Lamborn (CO), Moore (AL), Hern (OK), Mann (KS), Comer (KY), Reschenthaler (PA), Harris (MD), Carl (AL), Johnson (LA), Lesko (AZ), Luna (FL), Hageman (WY), Biggs (AZ), Posey (FL), McCormick (GA), De La Cruz (TX), Brecheen (OK), Santos (NY), Miller (OH), Burlison (MO), Ogles (TN), Palmer (AL).
Supporting Groups: CPAC & Chairman Matt Schlapp, American Principles Project (APP), Citizens for Renewing America (CRA), Moms for America.
Click here to read the full text of the bill.